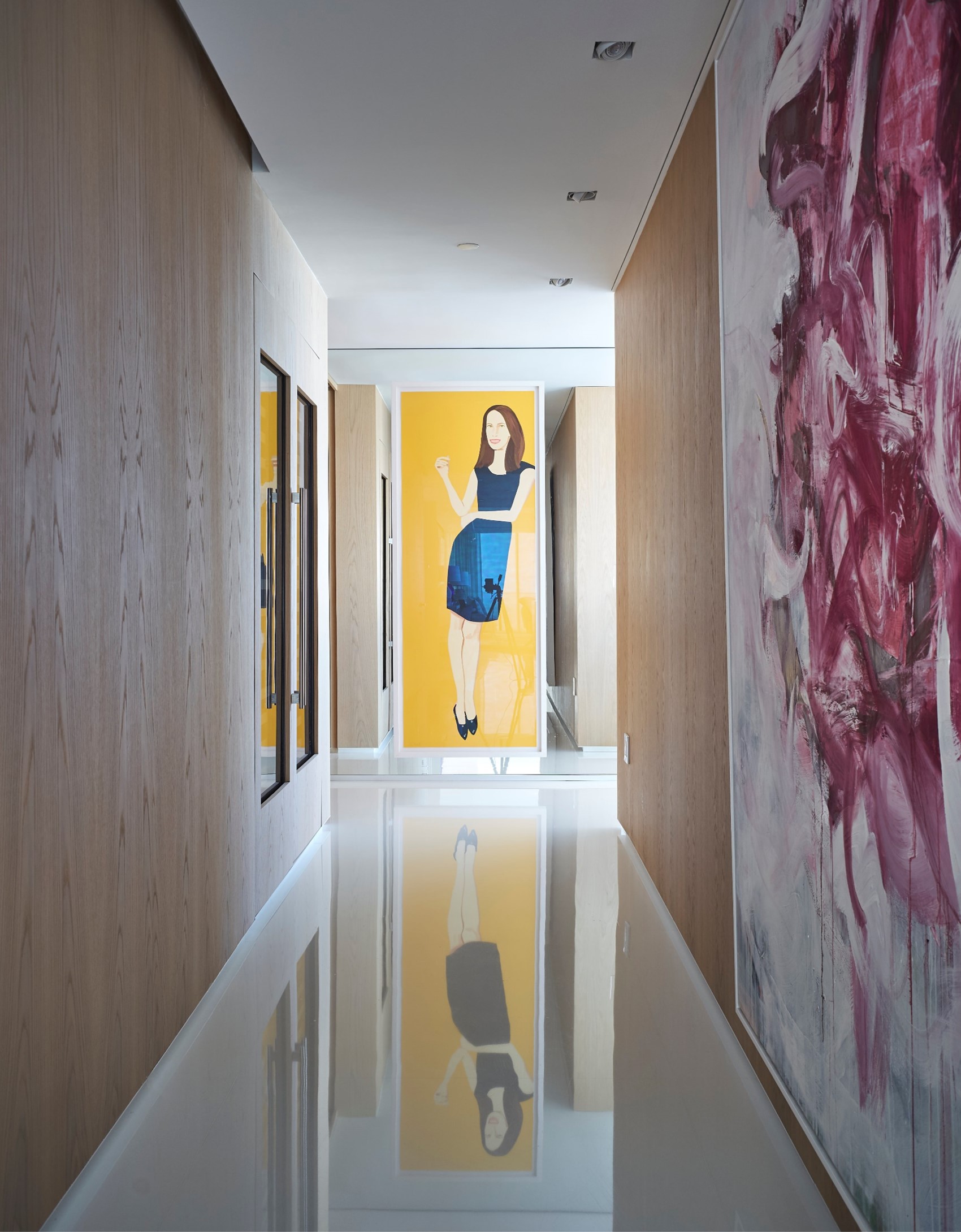 From Inbox to Unbox: The final destination to your home
From Inbox to Unbox: The final destination to your home
"The more the art dominated my life and my house, the more the house became a home."
— Burt Reynolds
We are thrilled to share with you the final destination from a recent project in collaboration with a prominent interior designer studio from Brazil, which was done in mind for a private collector in Bal Harbour, Florida. It is always a special moment in our daily operation when we receive pictures from our clients. Even though the editions are multiple, the installation in each home is unique. We hope you can find some inspiration and a little motivation to further enhance your daily space — be it your home or working space.
The black dress has been a recurrent theme in Alex Katz's work since the very beginning. The theme of the edition goes back to one of his most iconic early paintings, which is indeed titled "Black Dress", created in 1960 and depicting 6 different perspectives of a woman; his wife and muse Ada, wearing a classic cut little black dress, very similar to the one featured in the iconic movie Breakfast at Tiffany.
Calvin Klein said: "Alex Katz's Black Dress series is just as modern and wonderful. And, ironically it has nothing to do with fashion. His portrait have such strong color fields and clean lines. And despite their apparent simplicity, they're extremely expressive and perfectly capture the essence of his subjects. You can't help but notice these women, these beautiful enigmas drawn in bold and certain strokes. You wonder who they are, how they live, what they feel, just exactly what they have going on."
Installation view of Alex Katz's silkscreen "White Roses" in Bal Harbour, Florida. Design project by Sig Bergamin. Photograph: ©Björn Wallander.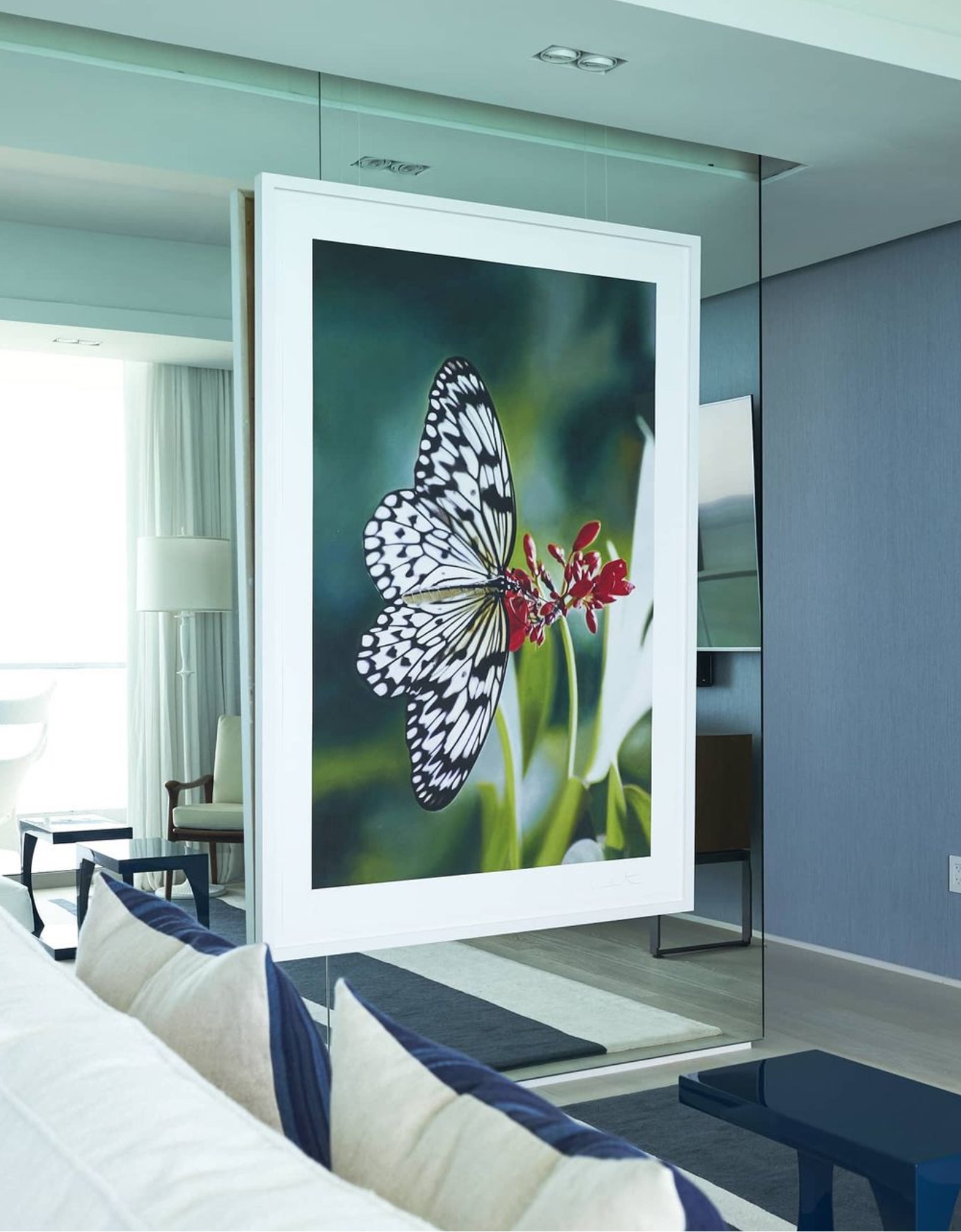 Design project by Sig Bergamin. Photograph: ©Björn Wallander.
Following with White Roses (image above) which is also by Alex Katz. This work is part of the famous flower painting series by the American artist. Katz has been painting flowers since the 1960s, often during his summer residencies in Maine. The cropped, flattened composition displays a debt to Japanese woodblock art printing. The American artist is well-known for his large works, whose bold and simple use of colours are now seen as precursors of Pop Art.
Katz's flower themes are inspired by everyday motifs and are among the most favourite subjects of the artist within the theme of nature. In a 1968 interview, Katz described his works of flowers as an extension of the cocktail party scenes he often painted. He remarked that the flowers are "all overlapping volumes" like the individuals in his figure groupings, which overlap one another as they advance into the painting's pictorial space. However, by selecting flowers as a subject he sought to introduce a greater degree of movement in the work without literally representing something in motion, thus focusing on the unfolding form of a rose bud.
Katz uses a physically poetic language—similar to dance—in his work, allowing the viewer to adapt that structure to his or her own frame of mind and emotional bearing. Light and form provide an unexpected syncopation of movement across the surface of his paintings of flowers. Painted rapidly and assuredly, wet into wet, the flowers oscillate between states of awkwardness and grace typically associated with the human body. Katz's roses, with their fleshy petals and serrated leaves, are aggressive and fierce, belying the congenial association that flowers typically summon.

Design project by Sig Bergamin. Photograph: ©Björn Wallander.
"I've got an obsession with death … But I think it's like a celebration of life rather than something morbid."
— Damien Hirst
The first butterfly work by the British artist Damien Hirst is based on the painting Idea leuconoe in Nerium oleander, which is from 2009 - 2010. The limited edition is however titled Paper Kite Butterfly on Oleander and comes form an 25 inkjet prints.
Hirst began work on the Fact series in 2000. His goal with this series has always been to attempt to reproduce photographs exactly in complete, realistic detail through the traditional medium of oil on canvas. The paintings explore our relationship with imagery. Hirst explains: "I want you to believe in them in the same way as you believe in the Medicine Cabinets. I don't want them to look clever, but to convince you. I'm using painting to produce something that looks like a bad quality reproduction – the painting process is hidden as it is in my work Hymn, which looks like plastic, but is bronze underneath."
The 'Kaleidoscope' works reference the spiritual symbolism of the butterfly, used by the Greeks to depict Psyche, the soul, and in Christian imagery to signify the resurrection. The works are reminiscent of, and even sometimes directly copy stained glass windows. Recalling someone once saying to Hirst: "Butterflies are beautiful, but it's a shame they have disgusting hairy bodies in the middle," Hirst chose to use only the iridescent wings in the 'Kaleidoscope' works, divorcing the butterflies from "the real thing".