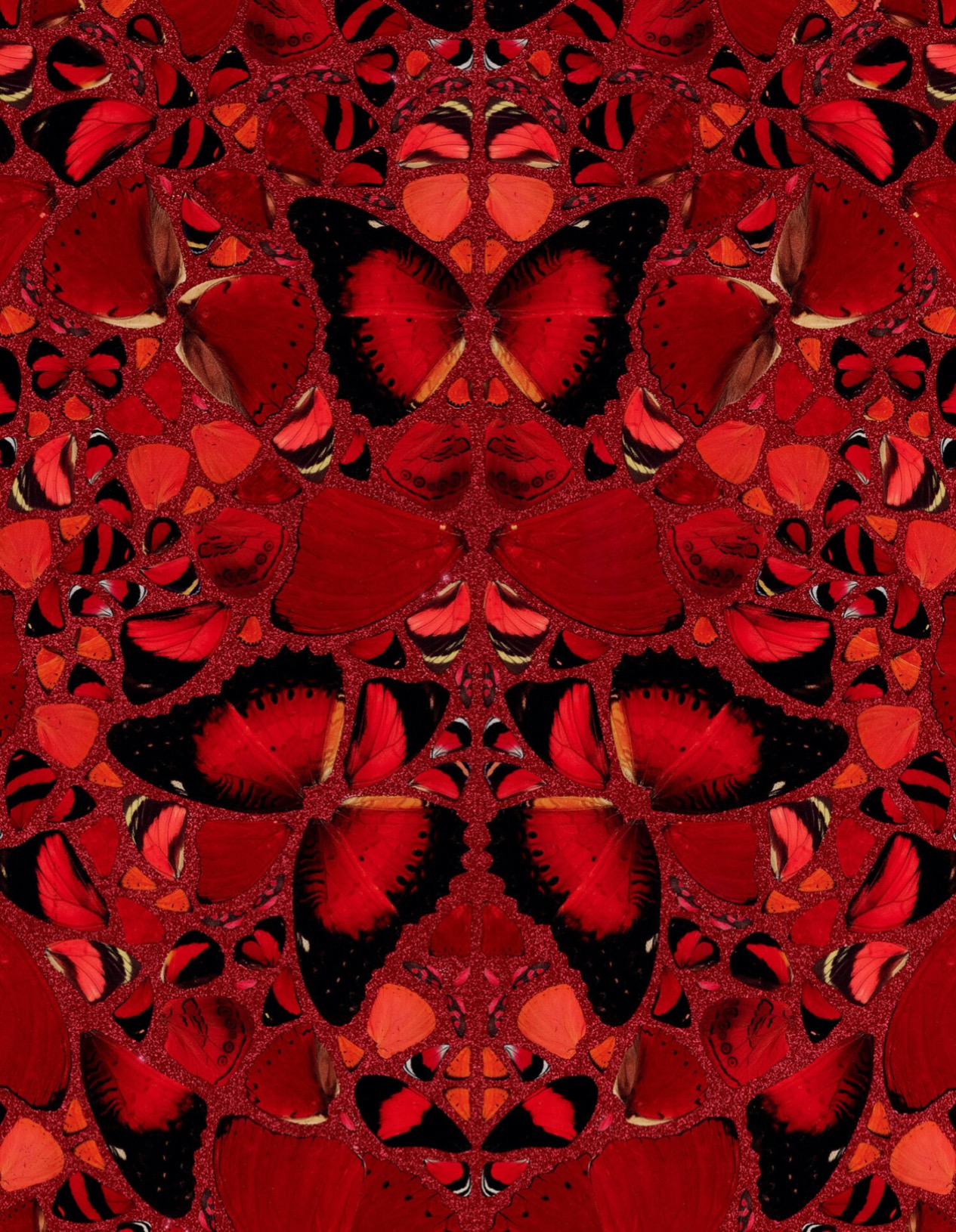 Damien Hirst, Theodora (The Empresses, H10-03), 2022
"The Empresses" by Damien Hirst
"I just made these 5 mega red glitter prints! I thought the idea was good but seeing them now, real, they feel like they are unlocking the unfathomable mysteries of the universe. I don't know why they are so good but they are... They feel powerful and important. I called them "The Empresses" and named them after five famous female rulers (...) I love art and it's uplifting qualities and how can these not make you feel good? I love it when an idea explodes and becomes more than the sum of its parts."
— Damien Hirst
We are delighted to present you with The Empresses; a highly-sought after limited art edition series by Damien Hirst.
This series of five glorious prints are carefully composed images of butterfly wings that create a kaleidoscope effect and are placed on a flaming red background. Each work has been carefully screen printed with glitter coat which offers that gleaming effect on them. Each Empress from this series is named after five exceptionally influential female rulers: Wu Zetian (624-705), Nūr Jahān (1577-1645), Theodora (c. 490-548), Suiko (554-628) and Taytu Betul (1851-1918). Their characters and stories are enhanced by the dominant red tone of the series, which deals with themes such as life, war, power, anger, love, joy and luck.
The Empresses, set of 5, 2022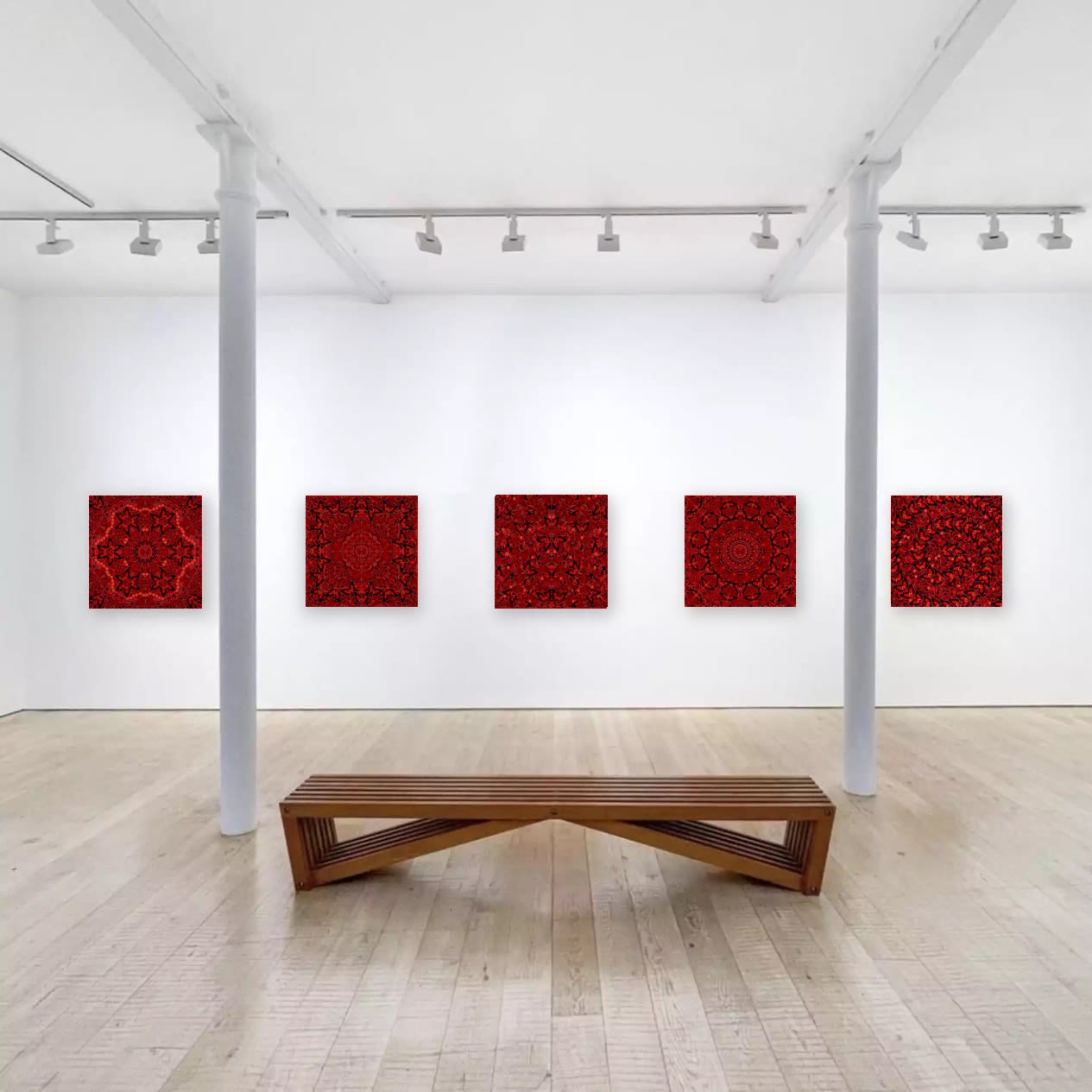 Damien Hirst, Nūr Jahān (The Empresses, H10-02), 2022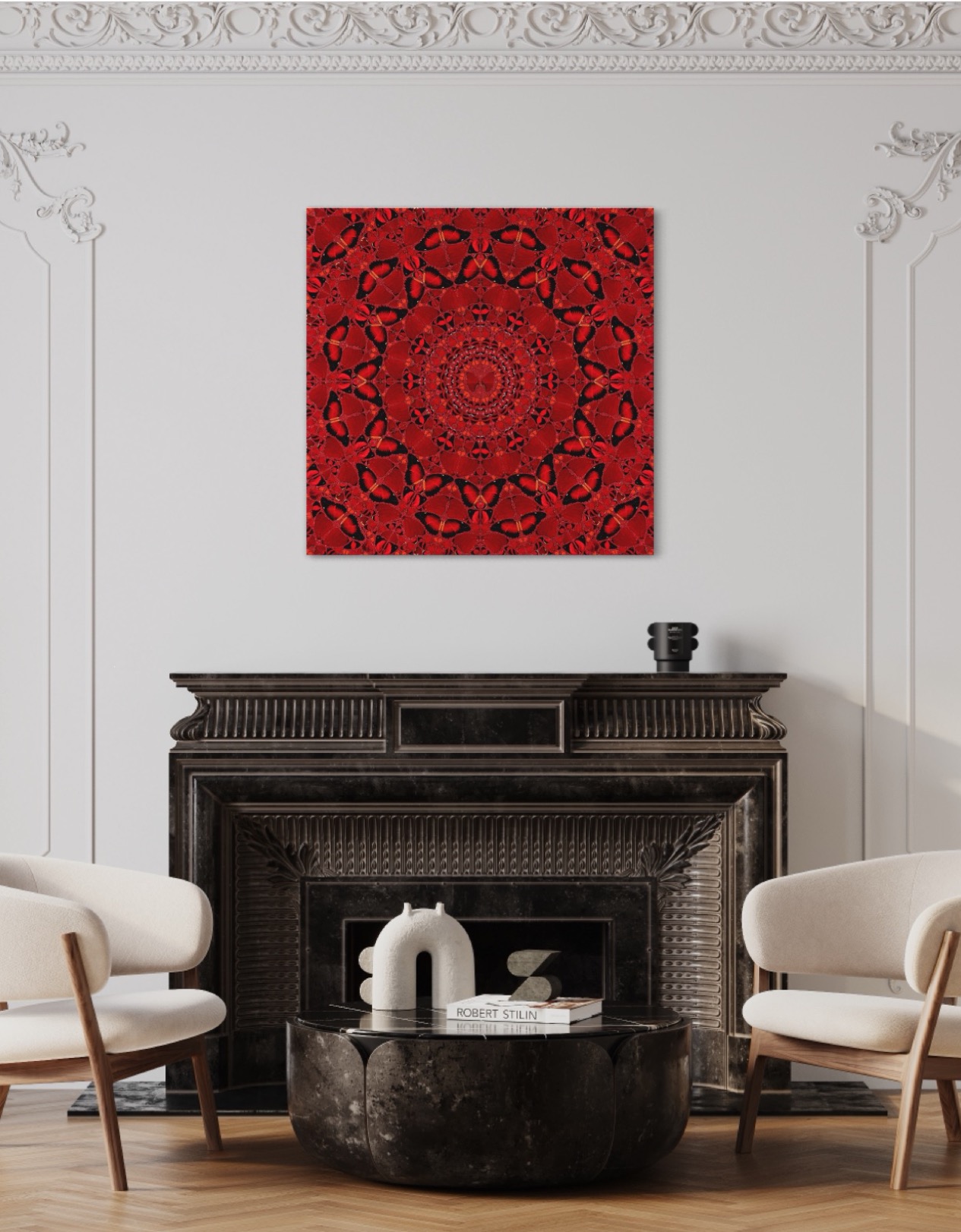 Damien Hirst, Suiko (The Empresses, H10-02), 2022
Since the beginning of his career, Hirst has interacted with the butterfly, one of his best-known motifs. Inspired by a chance encounter in his studio and the intricate patterns found on Victorian tea trays, in The Empresses Hirst develops on the complex compositions he invented in his Kaleidoscope Paintings and Mandalas series. The Empresses prints are symmetrical, asymmetrical, and spiral patterns of meticulously organised butterflies that nonetheless exude hope and life – the butterflies feel as if they are taking flight. This effect is in part aided by the material, laminated Giclée print on aluminium composite, screen printed with diamond dust, which allows the butterfly wings to be presented in such detail that they appear lifelike.
The images of wings inspire awe and are framed by diamond dust, a fantastically tactile material previously used by Hirst in his paintings. Diamond dust is loved for its playfulness and joy – a sentiment echoed in the play-on-words of the series title itself, which alludes to both female rulers and the Empress Butterfly. Hirst has consistently used butterflies for their associations to freedom, religion, life and death. The Empresses illuminates and sheds light on these themes. Through this new series, these themes become intertwined with glory, female power and the development of nations, visible through the entrancing twists and turns of these five dazzling and vital visual celebrations.

Damien Hirst, Wu Zetian (The Empresses, H10-01) 2022
"I see butterflies as souls and part of a wider visual language. I've always described them as universal triggers; everyone loves them because of their incredible abstract fragility and beauty. It's an interesting example of how we use nature to try and express the inexpressible: love, desire, belief and the eternal."
— Damien Hirst
For purchase inquiries, please contact:
Giorgia Zardetto, Managing Director
(giorgia@wengcontemporary.com)

Laura Marinoni, Sales & Operations
(laura@wengcontemporary.com)

Arianna Perini, Sales & Operations
(arianna@wengcontemporary.com)