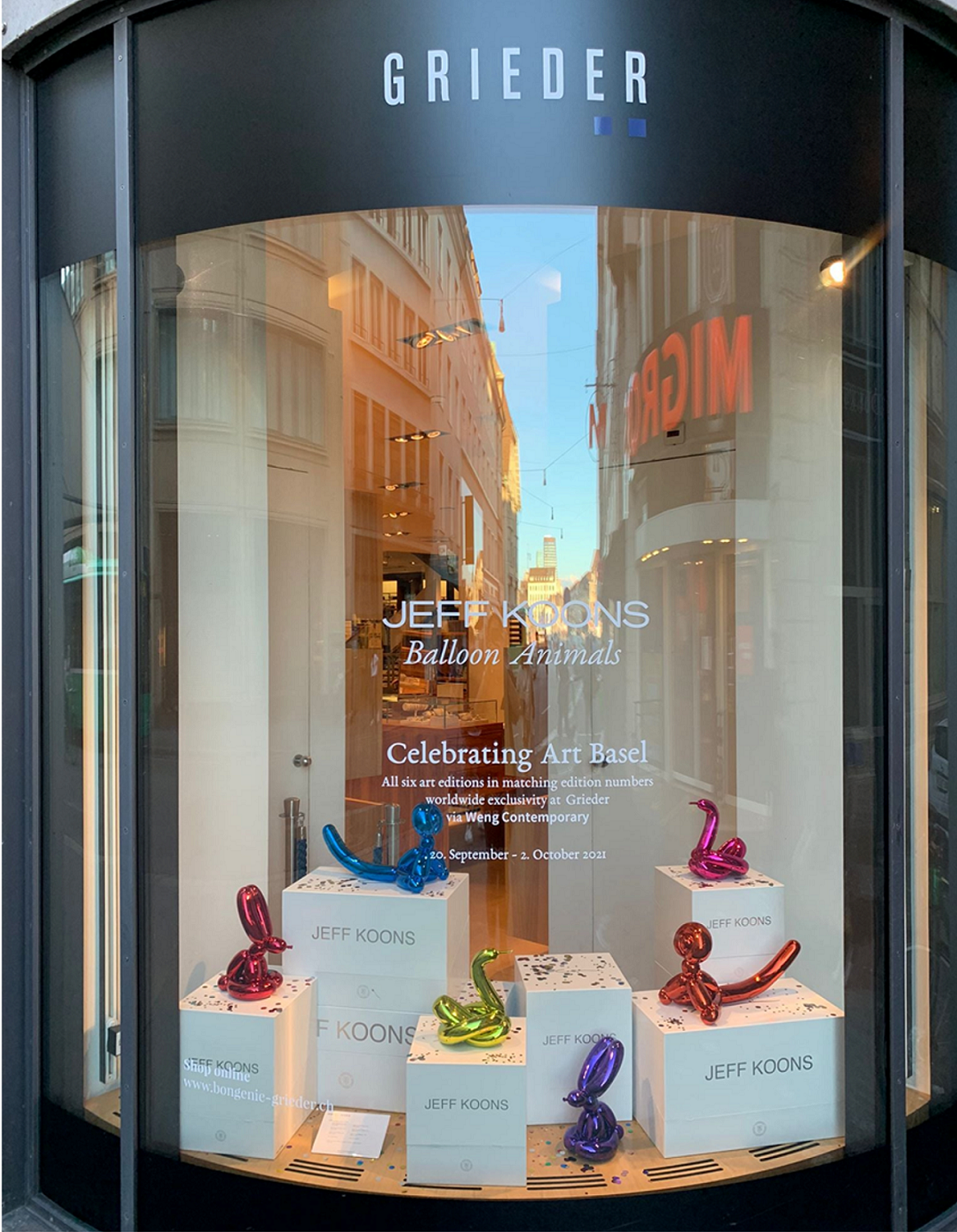 Digital + Physical: Find Us At Bongénie Grieder in 4 Locations in Switzerland
"One of the things that I'm most proud of is making work that lets viewers not feel intimidated by art, but feel that they can emotionally participate in it through their senses and their intellect and be fully engaged."
— Jeff Koons
We are delighted to announce our partnership with the historic department house Bongénie Grieder to celebrate art in four locations, in Basel, Zürich, Lausanne, and Geneva.

Explore iconic artworks throughout Switzerland, available for purchase until Saturday, 9th of October.
For Basel, we have presented the iconic Balloon Animals as a Collector's Set. Incorporating the vocabulary of Jeff Koons´s iconic Celebration series; the Balloon Rabbit, Balloon Monkey, and Balloon Swan, that marked a spectacular new chapter in the artist´s oeuvre.
The limited-edition, now in a matching edition number - only 40 editions created, touches on various important subjects of the history of art; such as the biblical creation, our anti-aging obsession, the memento mori, cheating death, as well as through its materiality; porcelain with chromatic coating.
Koons democratizes porcelain, a material once used exclusively for kings, to the masses, and the reflection of the Balloon Animals adds elements of the Greek myth of Narcissus - "if you don´t move, nothing happens", as Koons has said.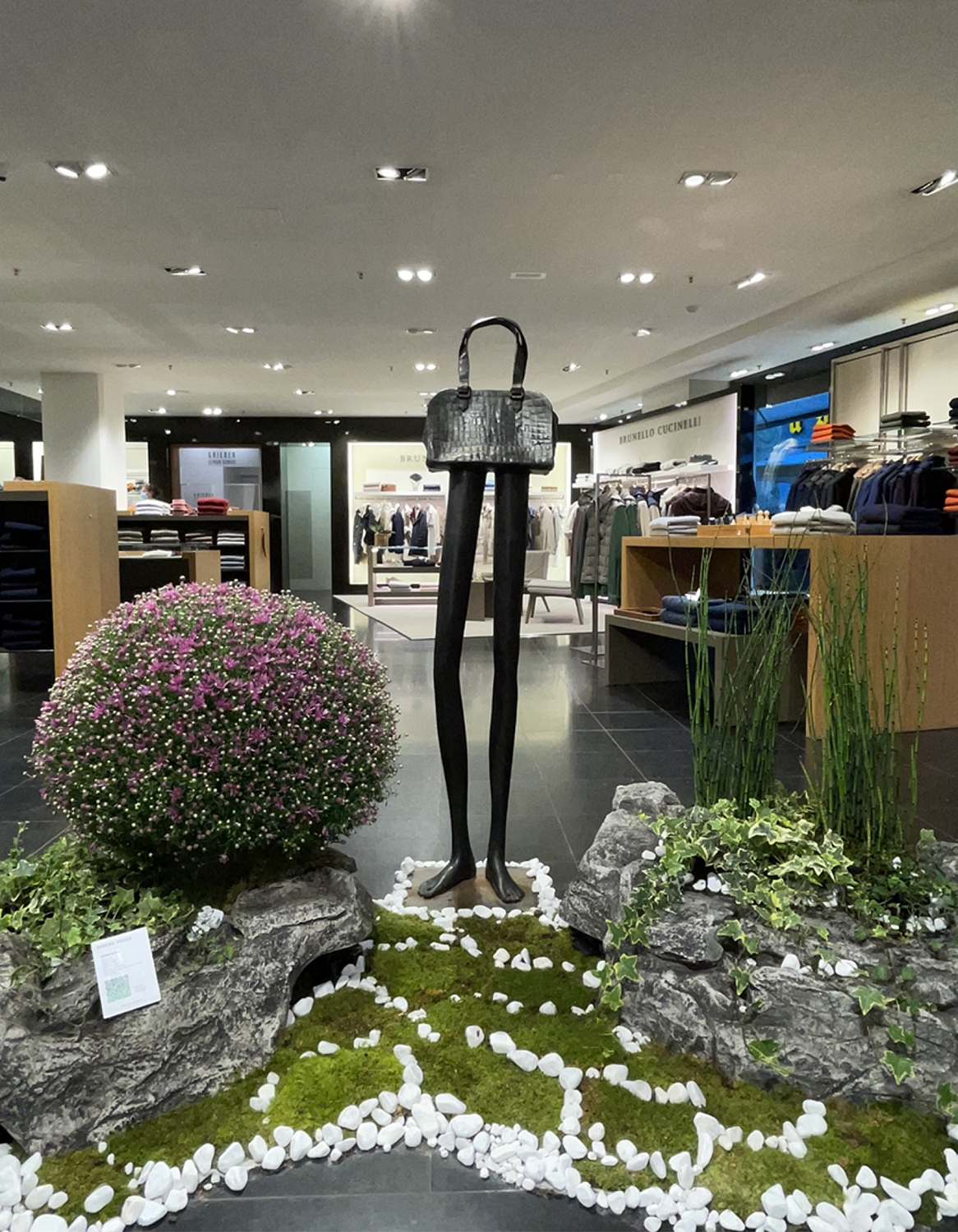 In Geneva, we had the pleasure to present the latest edition by Jeff Koons - the Diamond (Red) accompanied with the Balloon Animals.
The festive Diamond (Red) was created in 2020 and comes from an edition number of 599. Koons first started working with the image of the Diamond in 1994 as part of his Celebration series. Thereafter, the Diamond became a vehicle for Koons to communicate and reflect upon the mass-made consumer products that are created for festivities. The American artist stated: "I don´t care about money. I´m interested in people, human desire, and aspiration."
For the historic department house at Bahnhofstrasse 30 in Zurich, we are showing a solo presentation from the Walking bag series by Erwin Wurm, titled Tall bag YSL. Created out of bronze, this artwork permits outdoor installation under any weather conditions. As an artist, Wurm is interested in conditions that test the limits of form and evoke the absurdity that can be found in the routine and mundane actions of everyday life, such as by giving human appendages to luxury handbags.

"I just see Monroe as just another person. As for whether it's symbolical to paint Monroe in such violent colors: it's beauty, and she's beautiful and if something's beautiful it's pretty colors, that's all."
— Andy Warhol
The focal point of our presentation in Lausanne consists of nine Andy Warhol's Marilyn that grace the main wall. These works come from a limited edition of 49 and are made out of enamel on porcelain. A set of four pieces in matching edition numbers (ed. 35/49) are also available and presented as a desirable collectible.
Jeff Koon's Balloon Animals in matching edition numbers from 2019 are exclusively presented in Lausanne only. Together with the iconic presentation box of the Balloon Dogs and Koons's latest edition Diamond (Red). All art editions by Koons are made out of French Limoges porcelain with chromatic coating.